EXCERPT FROM AN ARTICLE BY ELIZABETH CHOPPIN, FEATURED IN LUXURY DEFINED— CHRISTIE'S INTERNATIONAL REAL ESTATE
A great wine collection deserves perfect storage, and there are options for every type of home—from cabinets to bespoke installations to full-scale cellars…
Everyone knows that how you store wine is as important as how you serve it, but what do you do if your home doesn't have the cellar that your collection merits? Whether you are a serious wine connoisseur or a burgeoning enthusiast, you need to consider how temperature, humidity, UV light, and vibration will affect your wine, and monitor bottles closely to keep them in pristine condition.
The good news is there's a smart solution for every kind of wine lover and every type of space, from the palatial cellar of a country estate to the compact corner in a city condo.
Here's how to do it:
1. Know the correct storage conditions 
According to experts, the correct temperature for storing wine is 50-57°F (10-14°C), with 70-75 percent humidity, beyond which paper labels and corks can spoil. In the wine cellar (or room), fluctuation is the enemy.
"In the past, a cool larder or under-stairs cupboard might have been acceptable, but modern technology now gives us temperature-controlled cabinets, pods, and rooms—much more efficient to protect precious bottles," says David Elswood, International Head of Wine at Christie's. "In fact, we're all trying to recreate the natural conditions that an old-style, underground cellar provided."
Jan Konetzki, director of wine at The Club at London's Ten Trinity Square, and Château Latour and Artemis Domaines ambassador, adds: "Aging fine wines in your own cellar is a rewarding process. It provides layers of pleasure, from the moment of purchasing to the moment one decides to pull the cork."
2. Determine how much space you need
If a traditional cellar isn't feasible, there is a range of products that will help to store wine safely and, if desired, make a visual feature out of it, too—from fridge-style wine cabinets and rooms to compact, modular cellars ingeniously set into the floor. Once the decision has been made to create dedicated wine storage, the solution really comes down to space and taste.
Lucy Hargreaves, co-owner of UK-based Spiral Cellars, says: "One of the reasons our underground cellars are so popular is because they don't use any existing space—rather, they create a storage space that didn't previously exist." The actual hole for a Spiral Cellar is only eight feet in diameter, so even the most bijou of kitchens is able to accommodate one.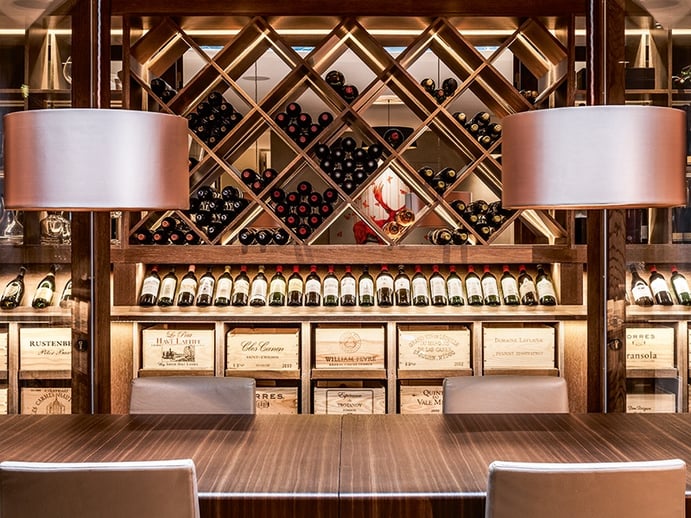 Not all wine storage has to be below stairs or below floorboards, however. If a wine room is more appropriate to your needs and space, projects can be tailored to fit properties of all shapes and sizes. There is a trend for filling corners, alcoves, and utility rooms with bespoke wine storage, says Hargreaves, housing anything from 60 bottles to more than 1,000. It's essential to get the conditions in cellars and rooms just right, she adds, because a substantial value of wine can be lost if things go wrong.
3. Work with an expert
Paul van Maaren of UK-based Wine by Design echoes the importance of getting it right the first time. "I project-manage every job and I only do 10 to 15 a year," he says. "If you don't do it correctly, the storage might work for two years and then it will fail. More often than not my clients are storing between £100,000 and £2,000,000 [$131,705–$2,634,730] worth of wine, so it has to be done right."
Brands such as Vinomagna, Cellar Maison, Smith & Taylor, and EuroCave all offer bespoke storage, including cellar conditioners that create the right temperature and humidity in a room or area set aside for wine. These companies collaborate with clients, or their interior designers, on concepts and installation using 3D-modeling software. Then there are the add-on services for inventory, concierge, and aftercare.
Ben Austin, global business development manager at EuroCave, is keen to point out that not all wine storage is created equal. "We make only wine-specific products and nothing else," he says, emphasizing the value of enlisting a specialist rather than a kitchen manufacturer, however high-end. "We've been doing this for 41 years and our factory is in northern France; all of that comes at a price."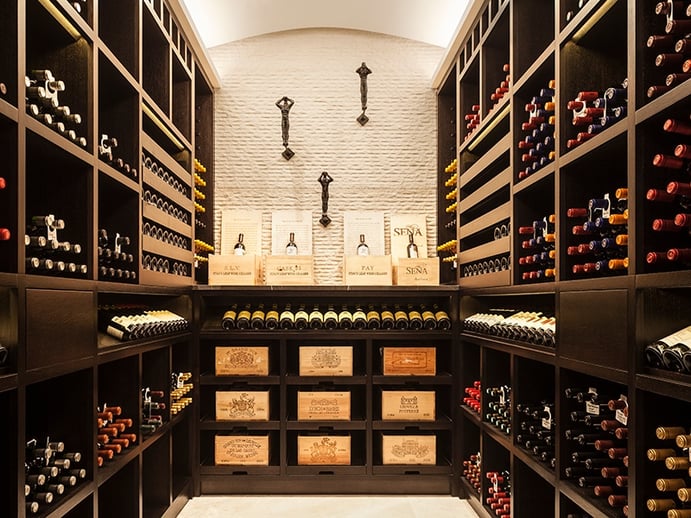 4. Customize to your requirements
Another point to consider is that not all collections strictly comprise standard wine bottles. If you plan to store magnums or half bottles, for example, it's best to have modular shelving that can be removed and adjusted according to your needs. You'd also be wise to have the capability to heat as well as cool; if you store wine in an outbuilding that drops toward freezing in the winter, the temperature you've set will be maintained regardless.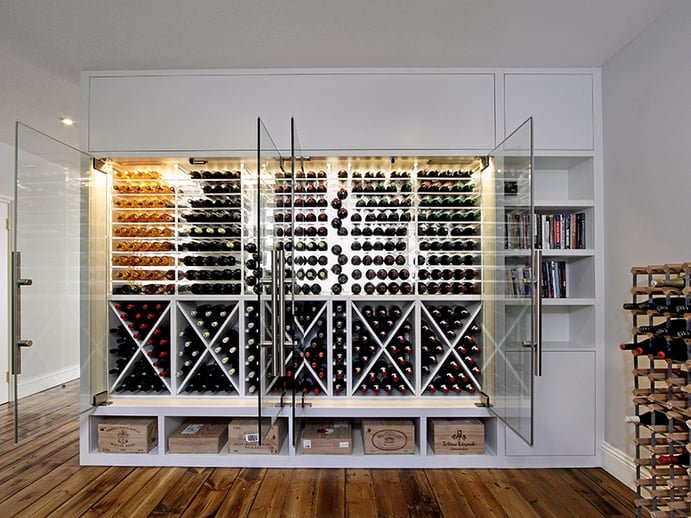 Storing wine goes well beyond practical considerations, however. Cellar Maison, which operates mostly in the UK and Europe, is one of the go-to companies for wine rooms, pods, and walls that showcase wine with the same care as an art collection. Frameless glass spaces—a kind of thermally insulated envelope—are a favorite way for collectors to entertain guests in the presence of a dramatic, illuminated display. If clients want to show off particular bottles, there are ways to do so, such as color-changing lights linked to a home-automation system or fiber optics that pinpoint specific labels.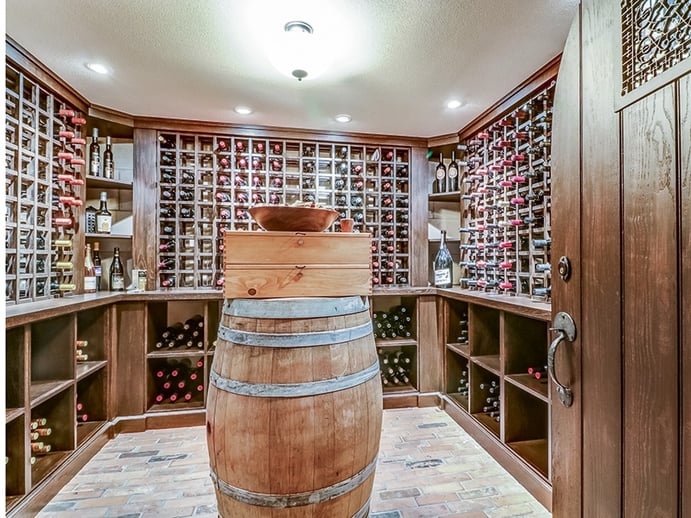 Of course, it is possible to work out the right conditions to store wine without appointing a specialist company. Interior designer Niloufar Bakhtiar-Bakhtiari, for example, created a double-sided unit for up to 800 bottles in the basement of her Chelsea townhouse in London. Teaming up with a carpenter for bespoke shelving and a glass specialist for the right UV protection, she then installed a climate-control system recommended by an oenologist.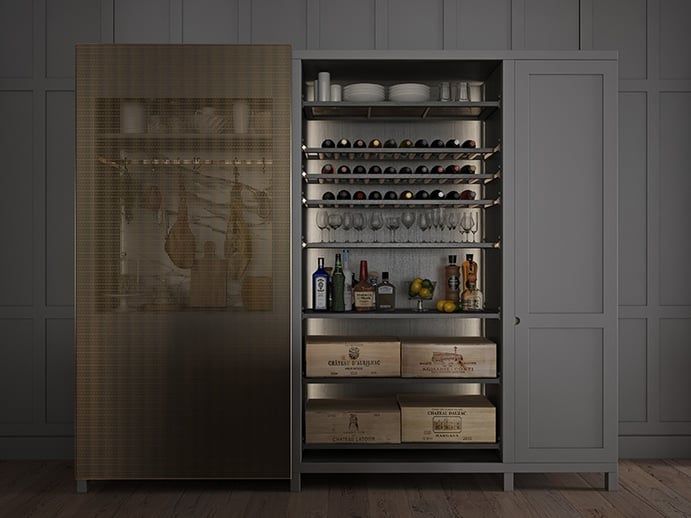 5. Know it's OK to start small
For those who aren't ready for a full wine room but do want something incredibly well-made, brands like Lanserring and Scarlet Splendour offer attractive cabinets and shelving options. They may not be climate controlled but they're beautiful and provide a dedicated space safely out of direct sunlight. Smallbone of Devizes offers the best of both worlds, with a customizable Wine Wall storage system that regulates temperature and humidity, with a back panel of laser-cut leather and a controllable lighting system.
What's clear is that investing in the right way to store wine will pay dividends. As Kathleen Coumou, an Executive Director at Christie's International Real Estate, explains, there is no doubt that it adds to the value of a home: "It's easy enough to have wine storage put in, but it's an extremely attractive amenity when buying or selling, because there are more collectors now than ever."
FEATURED PROPERTY WITH A FABULOUS WINE CELLAR AMONG NUMBEROUS OTHER AMENITIES:
RIVER OAK FARM IN MAHWAH, NJ
CLICK HERE for additional information about this Special Property and photo gallery.